Yurt rental in Brittany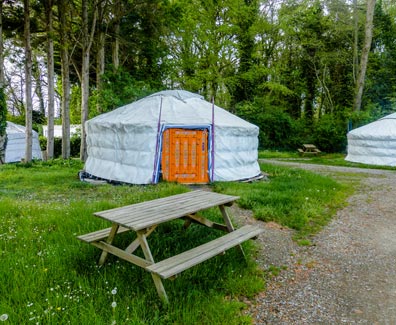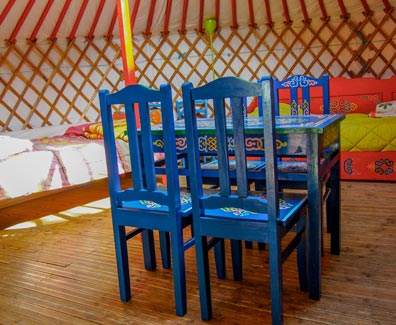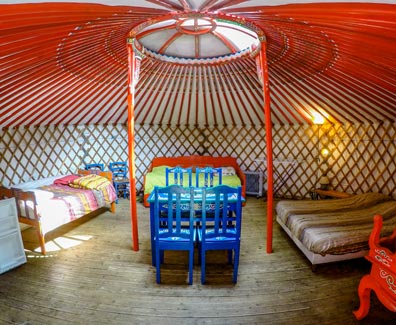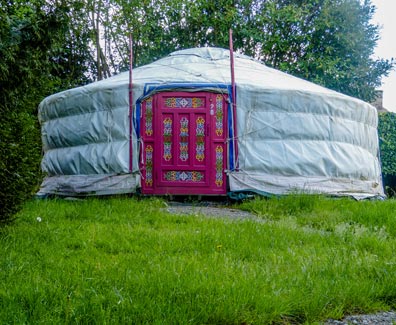 Discover the Yurt in Brittany
The yurt, the traditional habitat of nomadic Mongolian peoples, appeared about 2000 years ago approximately 2000 years ago.
Over the centuries, it has adapted to the practical requirements of transhumance but also to the spiritual requirements of shamanism and tengrism, historical beliefs of the Mongols.
They are now used in Mongolia of course, but also in other Central Asian countries such as Kazakhstan or Kyrgyzstan.
Glamping accommodation in Brittany
Our unusual accommodations located between Cancale and Saint Malo are on a wooded and quiet area 300 meters from the sea, composed of about twenty yurts and a tiny house. The accommodations are well spaced from each other in order to respect the privacy of everyone. The unusual village is a campsite like no other, the unusual accommodations make it a special place where the glamping makes sense.
The yurts are equipped with comfortable beds, colourful tables and chairs as well as a kitchen area with fridge, microwave and hob.
In the tiny house, which is alone on the unusual village Brittany, the space is very cosy with a living room kitchen and sanitary facilities on the ground floor and a bed for 2 people on the mezzanine.
These 2 modes of unusual accommodation offer the possibility to spend a comfortable and exotic stay.
Each accommodation has a outside parking. Rentals are non-smoking. A "sanitary" area is located near the reception and not far from the yurts because of the small size of the campsite the unusual village. A crockery area is also at your disposal with sponges, washing-up products and tea towels.
Info & Availability

See more pictures

Yurt 2/3p

Info & Availability

See more pictures

Yurt 4/5p
Rent our yurts in Brittany
Equipped with a central dome, the yurt is made of a orange mesh finely decorated with fabric and felt.
They are equipped with furniture also painted in orange and decorated with traditional motifs inspired by nature.
Our yurts can accommodate up to 6 people. In case of specific requests, do not hesitate to contact us, we will answer your questions as soon as possible.
The advantages of a Yurt in Brittany
What a resourcing experience!
They are equipped with Mongolian furniture also painted in different colours and decorated with traditional motifs inspired by nature. The yurt differs from the mobile home because it is a unique round room where the people who stay there live together in harmony with the habitat and nature. The stay in a yurt is pleasant summer and winter because it was designed for the climate in Mongolia which can vary from +30 °C to -30 °C, with its gas or oil stove even in winter inside the yurt it is always nice. The unusual village is open all year round.
Our yurts can accommodate couples as well as families, and up to 6 people for an interesting price.
After your cultural days in Saint Malo or Mont Saint Michel or on the fine sandy beaches of Cancale, Saint Coulomb or Dinard, you will be delighted to join the unusual camping village to rest in your yurt with all comfort.