Rental of Tiny House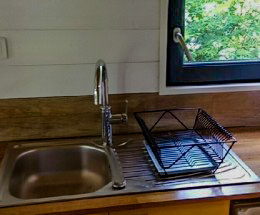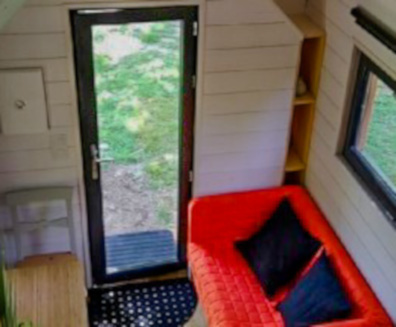 Rent our tiny House in Brittany
Come and discover a new experience of life when renting our Tiny House, in our unusual village in Brittany, with a ground surface of 15 m.
You will be agreeably surprised by the brightness and volume in this cosy space.
This habitat was originally created by Americans to allow them to travel to the United States while towing their homes. The dimensions of the tiny are the maximum dimensions allowed to go on the road. Very well insulated it allows to live there all year round as in a traditional habitat.
Discover the tiny House in Cancale
The Tiny House is a small nomadic and ecological house, designed to spend a cocooning stay without superfluous, everything has been thought to optimize the space to make it functional and warm in order to spend unusual and original holidays in a glassed-in space open to nature.
Downstairs is the fully equipped kitchen with worktop (sink, hob, fridge, cutlery and kitchen utensils), cupboards and shelves. Next to the kitchen, a removable table, a storage column, a sitting area with comfortable seating with electric heating.
Discreet and comfortable, you will have a shower and a small toilet area. dry toilet.
Upstairs, a 5 m² mezzanine dedicated to sleeping (140/200) and clothes storage. It is accessible by a ladder. Between the cabin and the caravan, this unusual accommodation allows you to feel good and sheltered in a zen and cosy space.
All camping-services are also available for the tenants of the tiny house: breakfasts, picnic baskets, massages. The tiny house has a parking space next to the accommodation.
The rate is 60 euros for 2 people.
Call us to book your stay at the best prices in Tiny House in the unusual village of Saint Benoît des Ondes, a unique and unusual accommodation near Saint Malo and Mont Saint Michel. The location in glamping opens to you, come and discover it!